14th March 2014
14-March-2014
14-March-2014 11:12
in General
by Admin
Well I have finally come back down to earth, and so can update our blog..... What an incredible last 48 hours after our first Cheltenham Festival winner. I cannot really descirbe it, but I am so thrilled for the whole team here at Folly House, and for Chips who unfortunately couldnt be at Cheltenham to see Present View and Brendan come back into the hallowed winners enclosure.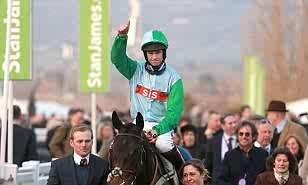 The race panned out just as we had planned, and Present View jumped his way to the front, and powered away up the famous hill. However, we had to survive a stewards enquiry as Ataglance had tried to come up Brendan's inner (where there was no room) and had to switch wide. Thankfully the result stood, but it was a very anxious wait....
Great British Racing (the PR side of racing) put a heart rate monitor on me for the day and I checked it after the stewards enquiry, where my heart was racing at 170 beats a minute - apparently it reached 175 when you are sky diving! What an experience!