3rd June 2014
03-June-2014
03-June-2014 16:54
in General
by Admin
This is always a fun time of year as we begin to restock for next season at the various sales, get some of the bumper horses jumping, turn out the remainder of the 'winter' horses, and everyone starts taking their holidays. We are now going through the annual steam clean and painting of the yard to keep it in good order for the coming season. We will have a few summer jumpers to keep us ticking over, but I'd say we won't have as many this summer as previous seasons, purely due to the fact that we seem to have more 'winter jumping types' now…. Fingers crossed that is a good sign of where Folly House is heading!
Another new face in the yard is a smashing looking Shirocco 3 year old gelding we have just been sent to go juvenile hurdling. Zephyr was part of a Highclere syndicate, but didn't show much in two runs as a 2 year old, but like most Shirocco's he probably needs a bit of time to mature, and he could be a smart recruit to go jumping. Below is a picture of him over poles this morning for the first time…. All being well we'll school him most days, and then freshen him up with a view to getting him out in some of the earlier juveniles.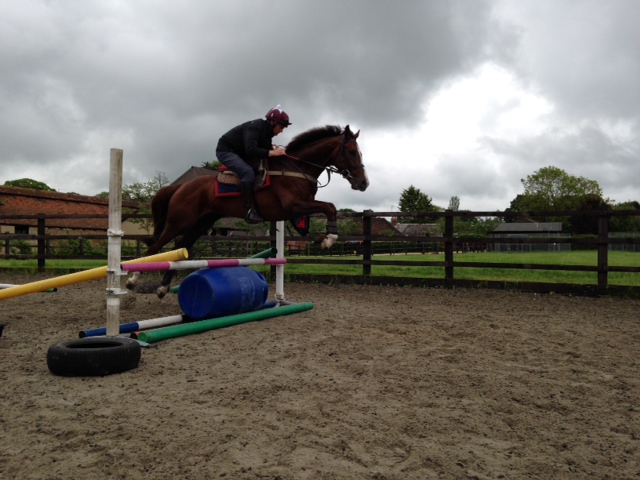 I was honoured to be asked to parade some of our horses at the Royal Bath and West Show on Saturday. Houndscourt did us proud and enjoyed his day out being admired by many gathered around the main arena.