12th September 2011
12-September-2011
12-September-2011 0:00
in General
by Admin
We hosted a very successful first open day at Folly House yesterday. The horses were looking a picture of health, and luckily we managed to parade over half of them in the beaming sun before a heavy shower forced us to take a ten minute break to fill up our glasses. We then paraded the remainder before sitting down for lunch in the garden.
Over 125 people turned out to see a fantastic squad of horses, which featured Ballyboker Boy (the impressive winner of 2 Irish Points from just 2 starts) for which there was a lot of interest - I wonder who is going to step forward as the new owner of this exciting prospect....
We certainly have a strong team of horses with which to have plenty of fun with this season, which has started so well for us - we are currently 14th in the trainers title, having ammassed over £50 000 in prize money so far, with over 60% of our runners being in the first 3. Fingers crossed we can continue this form throughout the winter months.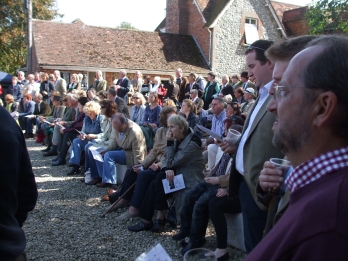 Over 125 guests watching the parade of horses at Folly House.