Val de Law misses out due to final fence fall - what a week!
10-February-2015
10-February-2015 13:40
in General
by Admin
With Present View ruled out for the rest of this season, Souriyan and Monbeg Theatre mugged late on, and Val De Law falling at the last when looking likely to win – this has to go down as 'one of those weeks'!
Val De Law was in the process of running a huge race on his debut for us at Exeter on Sunday, when he came down at the final fence when looking to have both Melodic Rendezvous and Southfield Theatre beaten. We bought him from France last spring having won a maiden hurdle at Pau, however he was quite light and in need of a bit of tlc, so we thought he would benefit from a good summer. Unfortunately he banged a splint bone in the autumn and so with one thing and another he's ended up having a year off the track. As he isn't a novice over hurdles and the fact he schooled so beautifully we thought we'd have a crack in a hot novice chase to see where we were with him. As it turns out, it looks as though he could be very smart…..and there should be lots to look forward with him.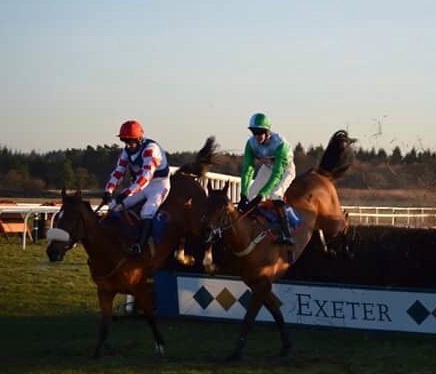 Val de Law challenging at the last before knuckling over on landing.