Oliver Signy's (Assistant Trainer) Blog
15.12.15
16-December-2015
16-December-2015 17:33
in General
by Admin
December is proving to be a rollercoaster of a month, allowing us to experience the thrills and spills of national hunt racing. If we jump back to the 4th December at Taunton for Monbeg Theatre's seasonal and chasing debut, one we'd waited so patiently for. Sadly we got in a little bit too close to the second fence and blundered through it, giving Brendan very little chance of staying in the saddle. A very common mistake for a novice chaser to make and I think we just need to put a line through it. He'll hopefully be out again at the start of next year, which is creeping closer and closer.
It was then decision time for Ardkilly Witness in the Becher's Chase at Aintree on the 5th. If he ran well he'd be aimed towards the Grand National in April and if he wasn't quite at that level we'd hopefully head to Sandown in March for the Grand Military, providing we can drop 9lbs. He ran a fantastic race and jumped a nice round but pulled up with 2 out when miles out of contention. Needless to say we'll hopefully head to Sandown and we've been dropped 3lbs for that run so 6lbs to go, fingers crossed!
On Sunday the 6th we had two runners at Huntingdon, first of them was Rhythm Star making her chasing debut in the Mare's Novice. She ran a solid race to finish 3rd of 4 but with a faultless round of jumping and the first two were both rated 125+ over hurdles… So I'm delighted with that. She'll look to run in a slightly weaker Novice next time out and hopefully improve two places….
Next up was Ebadani in the Novice hurdle at 20/1, a long shot in the betting but an exciting and a straightforward horse at home that showed plenty of ability. He ran a tremendous race to finish 4th behind 3 classy animals, in what turned out to be a strong novice. He might look to run back at Huntingdon on Boxing Day and could be well worth following this season.
A photo of Rhythm Star chasing to break up my boring chat…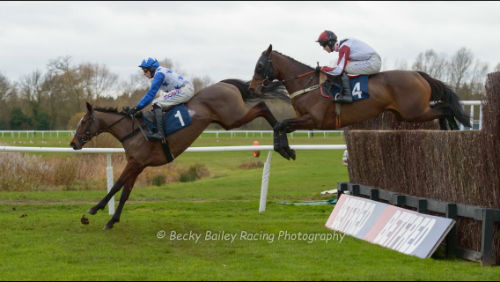 Wednesday 9th December proved to be a very special day for Jamie Snowden Racing as Lucy gave birth to their 3rd child, Arthur George Ian Snowden. After a couple of days in hospital Lucy and Arthur are home and resting up. Wednesday also saw Shockingtimes finish 4th in the handicap chase over 2m6f but it just looked a little too quick a pace for him down the back as he lost plenty of ground. He stayed on up the straight to finish 4th and I just wonder whether it may be time to step him up to 3 miles…
Our 3rd store horse from last summer, Orchard Park finally made his racecourse debut on Thursday at Taunton, as did our conditional jockey Graham Carson. There's no better feeling than when patience is rewarded as the pair finished 4th in a competitive bumper, staying every inch of the 2 miles. I'd like to think we could win a bumper off the back of that run and I'm also delighted for Graham to make such a positive first impression for us.
Folly House would have been like a ghost town on Friday afternoon as we had 4 runners spread over 3 meetings leaving very few people left in the yard. We made a winning start at Bangor with Kassis in the Mare's Chase. She put in a lovely round of jumping and just managed to hold on approaching the line in what was a trappy little affair. I'm absolutely delighted for everyone involved with Folly House as this winner was well overdue and it's a real confidence boaster….
We also had Our Reward in the bumper at Bangor but he just found the ground a little bit too testing and finished 4th in the end. I'd hoped for more after his impressive debut 3rd but it just wasn't to be and there'll be plenty of days for him yet.
We had one representative at Cheltenham as Breaking Bits stepped up in class in the handicap hurdle ridden by our amateur jockey Page Fuller. She gave him a lovely ride; bouncing out and making the running however just found him to be a little outpaced heading into the back and had been demoted to the back as they reached the bottom of the hill. He stayed on strongly up the straight but the race was already over by this time despite a positive ride by Page. He'll have a little break now and wait for the better ground, before heading novice chasing…
Below is Breaking Bits upsides jumping off with Page fighting the pro's for the lead…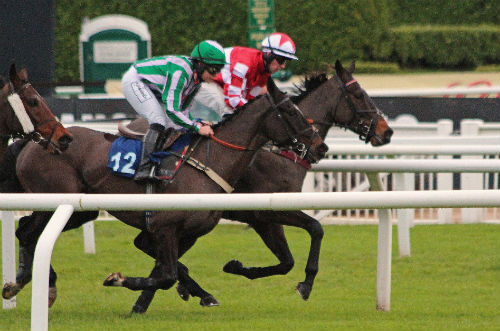 Our final runner was at Doncaster with Jean Fleming running in the Mare's handicap hurdle over 3 miles, the perfect event for Jean. She seemed to run no race at all and finished a long distant 6th which sadly takes away her record of never being out of the first three. She's come out of the race fine and I just hope it was a blip as we're all entitled to an off day….