Gary
15-October-2020
15-October-2020 17:01
in General
by Admin
It really is nice to have daily jump racing back, either watching on TV in our lunchtimes or actually going, it's been a long wait.
One horse definitely worth waiting for is Ga Law, or Gary (which couldn't be less French.) Gary was purchased last year after winning a hurdle for 3 year olds at Argentan in western France impressively and has certainly transferred that ability to this side of the Channel. Having started his novice chase campaign in impressive fashion at Fontwell, he took his form to another level by winning a handicap at Exeter without coming off the bridle. I am fortunate to ride Gary every day at home and having worked at Nicky Henderson's he feels every bit as good as one of his novices. I think I speak for everyone in the yard when I say he's an exciting prospect going into the winter.
Continuing on the French theme we had two runners in France back in September. I was tasked with taking Fact of the Matter and Oneofthesenights out to Paris then down to Moulin's. Nights ran a fantastic race to finish 2nd at Auteuil just being beaten by the third favourite for this weekend's Champion Hurdle and Matt ran well in his first real French X-country experience to finish 4th round Vichy. It was a brilliant week spent with my dad, Philip, who did the transport and i was particulary pleased to be able to see one of my good friends, Jacob Pritchard-Webb. Jacob was quickly becoming one of the leading conditional jockeys in France when a fall at Autueil left him paralyzed from the waist down. The progress he is making and the attidude with which he and his parents are dealing with it is astounding and the two days spent with them were fantastic. There is a silent auction being held to raise money for his care which you can find at https://www.jumblebee.co.uk/thejacobpritchardwebbrecoveryfundsilentauction Once I had completed the necessary isolation and covid tests it was back to work, and back to Gary.
I will do these more regularly.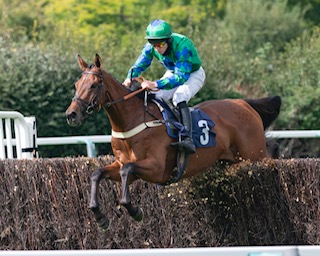 Ga Law winning at Fontwell